Burgerliche Archive (community, societies and guilds)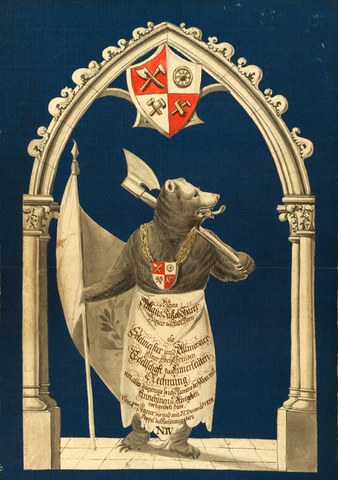 Image caption:
The Burgerbibliothek of Berne also serves as the community archives for the Burgergemeinde of Berne (Archives of the former patricians of Berne). It therefore holds the administrative archives of its institutions together with the archives of guilds and societies which, at about 720 linear metres, make up the Burgerbibliothek of Berne's largest holding. The administrative and guild archives are regarded as communal archives and are subject to cantonal legislation on community archives and data protection. There are some restrictions on their use.

The documents belonging to the Burgergemeinde of Berne are to be found in the archives of the individual departments or in the archives of the Burgerkanzlei (Chancellery of the Burgergemeinde). The departmental structure is repeated within the Chancellery archives. When working with the documents of the Burgergemeinde, this means that files on a particular subject could be in both the departmental archives and the Chancellery archive. One exception is the files and minutes of council meetings which are only held in the Chancellery archives.